Discover The Evolution, Origins & The History of Antipasto
Picture yourself in the heart of the Mediterranean, where the sun-kissed landscapes stretch far and wide. Here, olive groves sway, vine-ripened tomatoes glisten, and artisanal cheeses mature to perfection. Amidst this idyllic backdrop lies the captivating world of Antipasto —a culinary journey that transcends mere appetisers! Embark on a journey through the deep-rooted history of antipasto with Wholesale Food Group, tracing its path from ancient beginnings to contemporary customs on today's tables!
A Taste of Antipasto's Rich History!
To truly appreciate the richness of Antipasto, we must venture back in time to ancient Rome & Greece, where the seeds of this culinary tradition were sown. The term "Antipasto" itself, an Italian creation, holds a profound meaning — literally, "before the meal." In the kitchens of antiquity, Antipasto was more than just an appetizer; it was a prelude to the grand symphony of flavours that awaited diners!
In these early days, Antipasto featured a simple yet tantalising array of offerings. Olives, a beloved staple of Mediterranean cuisine, were a natural inclusion, showcasing the region's abundant olive groves. Alongside these briny delights, one could find an assortment of cheeses, each crafted with artisanal expertise, and pickled vegetables that introduced contrasting textures and meat. As the centuries flowed, Antipasto took on a life of its own. It evolved, embracing the flavours of different Mediterranean regions, becoming a vibrant tapestry woven from culinary traditions that spanned from Spain to Greece and beyond. It became a cultural collage, reflecting the rich history and heritage of the Mediterranean peoples.
Today, Antipasto stands as a testament to the harmonious fusion of flavours, textures, and traditions. It's a celebration of the sun-soaked vegetables, robust gourmet cheeses, artisanal condiments and cured meats that define the Mediterranean way of life. With each bite of Antipasto, we pay homage to the ancient culinary wisdom that continues to inspire and delight taste buds around the world!
The Essence of Gourmet Antipasto Platters
Antipasto isn't just a dish; it's a captivating mosaic, which showcases:
Sun-Kissed Vegetables: At the core of Antipasto lies a celebration of sun-kissed vegetables. Picture succulent slices of vegetables tenderised to perfection through grilling or marinating. Vegetables such as Onion, Artichokes, Mushrooms, Capsicums, Eggplant, Pumpkin, Sweet Potato, Zucchini, Tomatoes and Bell peppers are chosen for their vibrant colours and distinctive flavours. They are emblematic of the region's agricultural bounty! They embody the essence of the Mediterranean sun, infusing each bite with smoky, sweet, or earthy notes. Click here to check out our entire range of premium vegetables.
Artisanal Cheeses: No Antipasto platter is complete without the presence of artisanal cheeses. These
cheeses are a testament to the craftsmanship and dedication of Mediterranean cheesemakers. Creamy, tangy, or bold in flavour, they provide a harmonious contrast to the vegetables, elevating the overall tasting experience! Whether it's the crumbly texture of feta, the earthy depth of aged Parmesan, or the velvety richness of goat cheese, each cheese adds a unique dimension to the Antipasto tableau. Click here to check out our range of premium gourmet cheeses.
Condiments and Flavour Elevation: Antipasto wouldn't be the same without its arsenal of condiments and flavour enhancers. These culinary companions bring depth and complexity to each bite. Imagine the boldness of olive tapenade, the zestiness of pestos, or the sweet tang of marinated peppers. These condiments are the seasoning that elevates the symphony of flavours in Antipasto, offering a tantalising journey for the palate. Click here to check out our flavourful range of condiments!
Exquisite Olives: Olives, a Mediterranean treasure, are the unsung heroes of Antipasto. Whether they're marinated in fragrant herbs, stuffed with flavourful ingredients, or simply brined to perfection, olives add a burst of briny, savoury goodness. Each bite is a homage to the iconic olive groves that grace the Mediterranean landscape. Click here to check out our versatile range of Green, Kalamata, Mixed and Hand-filled Olives.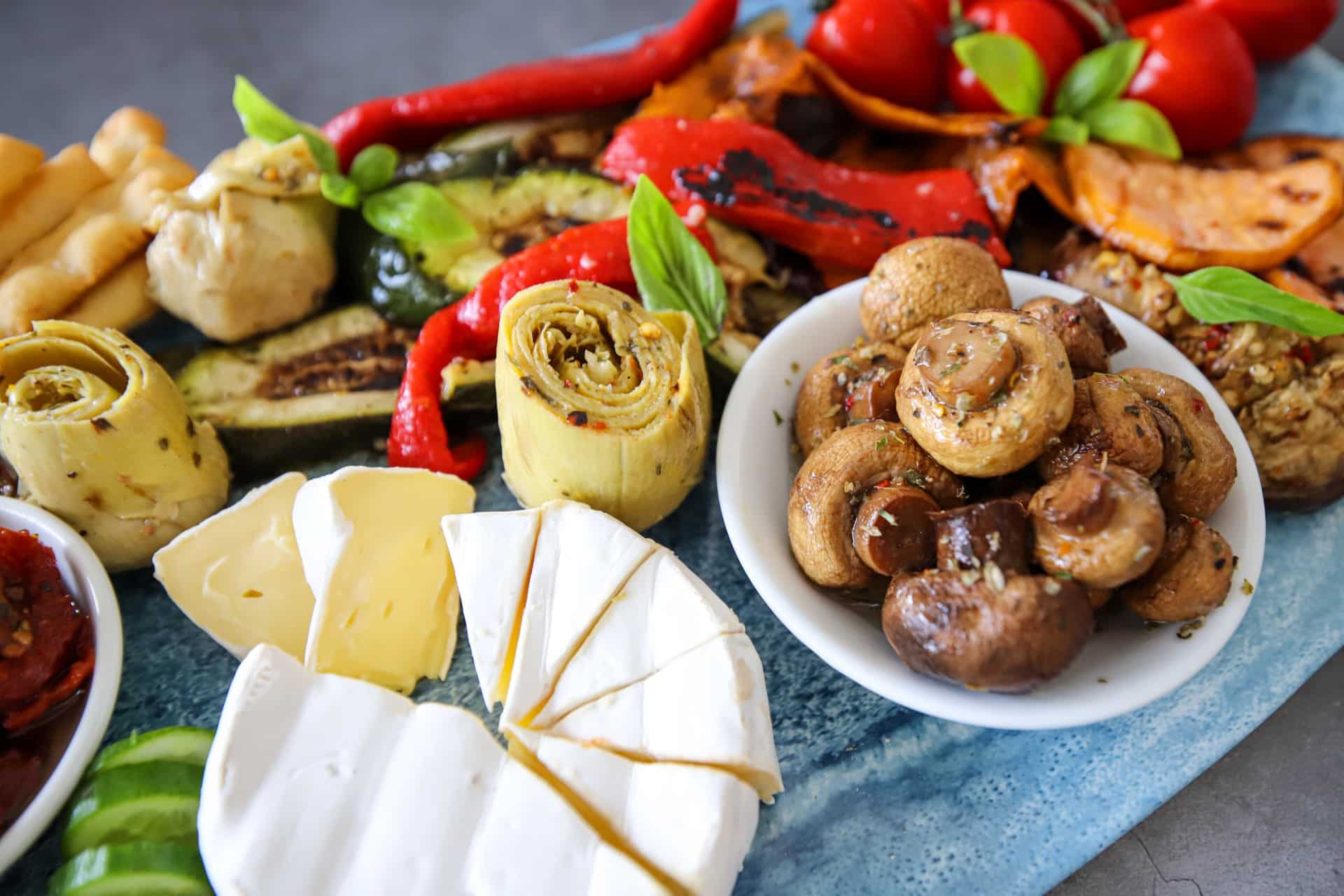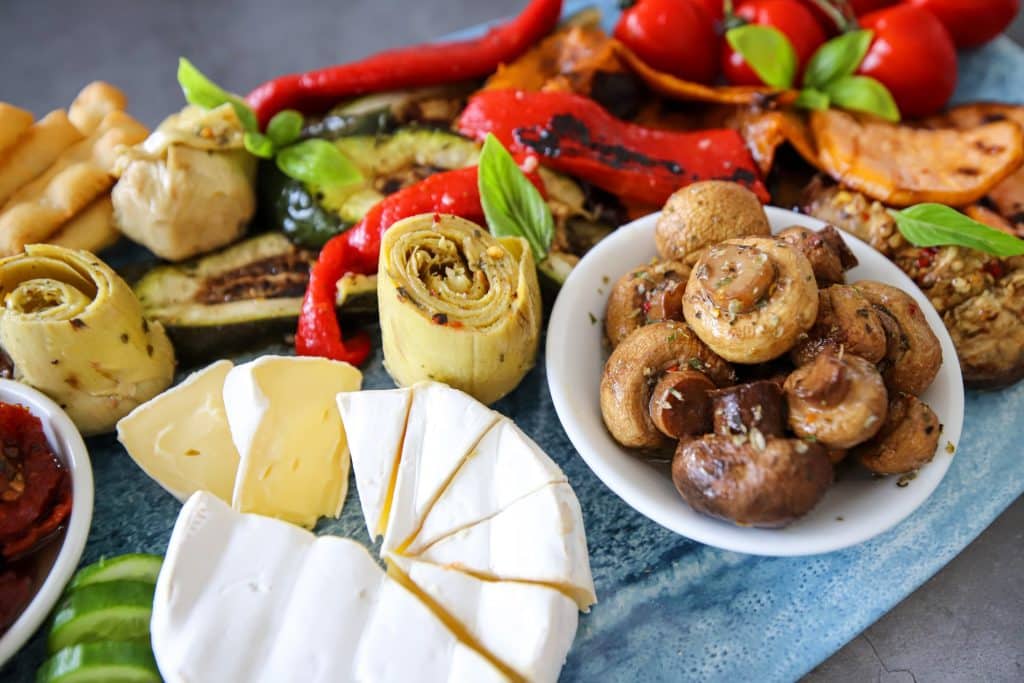 Feel ready to embark on your Antipasto adventure? Here's how you can ace it!
Mix and Match: Experiment with different Antipasto ingredients to create your perfect platter. Blend bold flavours with milder ones to achieve a balanced taste.
Presentation Excellence: Curate your Antipasto with care. Employ elegant serving dishes and garnishes like fresh herbs and edible flowers to create a visually stunning tableau.
Accompaniments: Don't overlook crusty bread, crackers, and a selection of wines to complement your Antipasto platter at your next event or family gathering! These elements can elevate the flavours and enhance your dining
experience.
Share the Magic: Antipasto is meant to be shared. Invite friends and family to savour this delightful culinary journey together. It's a perfect excuse to bond over exquisite flavours and create lasting memories.
At Wholesale Food Group, our Antipasto product range is a carefully selected range of premium vegetables that are roasted and marinated to boost flavours, a variety of Fetta Cheeses, hand-filled Bell Peppers, exceptional Condiments, and mouth-watering Olives. While we have a unique and diverse range of products to choose from, these products are the shining stars of our Antipasto selection! Discover more about what we make here or learn more about our food product development.
1. Semi-Dried Tomatoes
Semi-dried tomatoes, kissed by the Mediterranean sun, offer an intense tomato flavour, a result of slow drying—a burst of sweet and tangy euphoria! These tomatoes are culinary chameleons, elevating pasta dishes, sandwiches, and bruschettas to new heights. Yet, they're just as perfect for a simple snack—an embodiment of Mediterranean sunshine in every bite!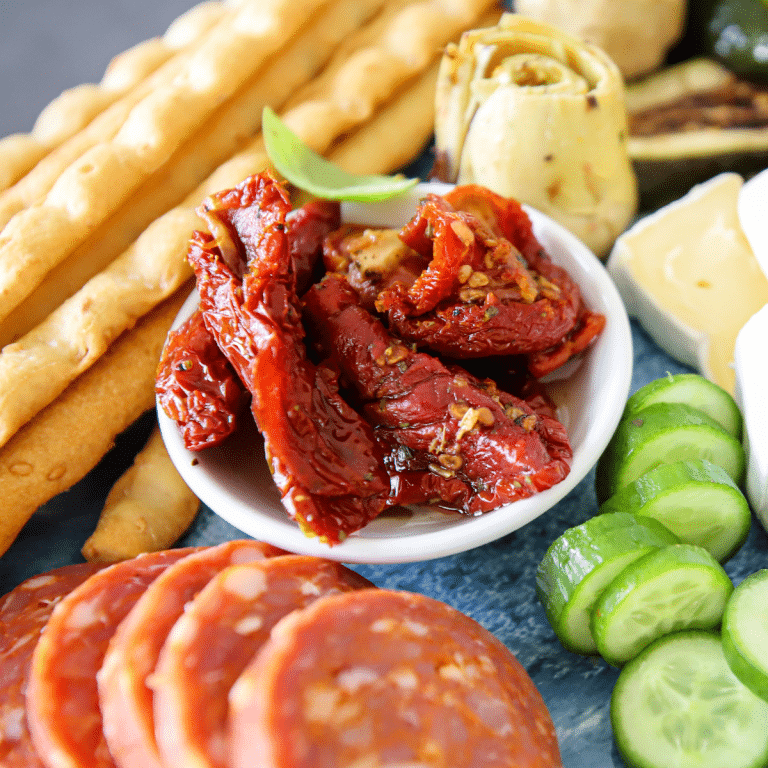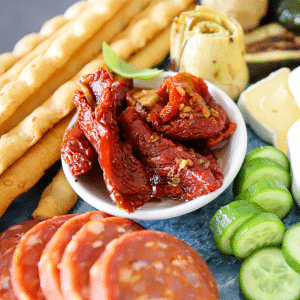 2. Bell Peppers filled with Basil & Fetta
An exquisite combination of Bell Peppers filled with the aromatic essence of basil and the creamy decadence of fetta cheese. Each vibrant bell pepper is carefully hollowed and generously filled with a harmonious blend of fresh basil leaves and crumbled fetta cheese by hand. The result is a tantalising harmony of herbaceous notes and creamy richness, creating a delightful sensory experience with every bite!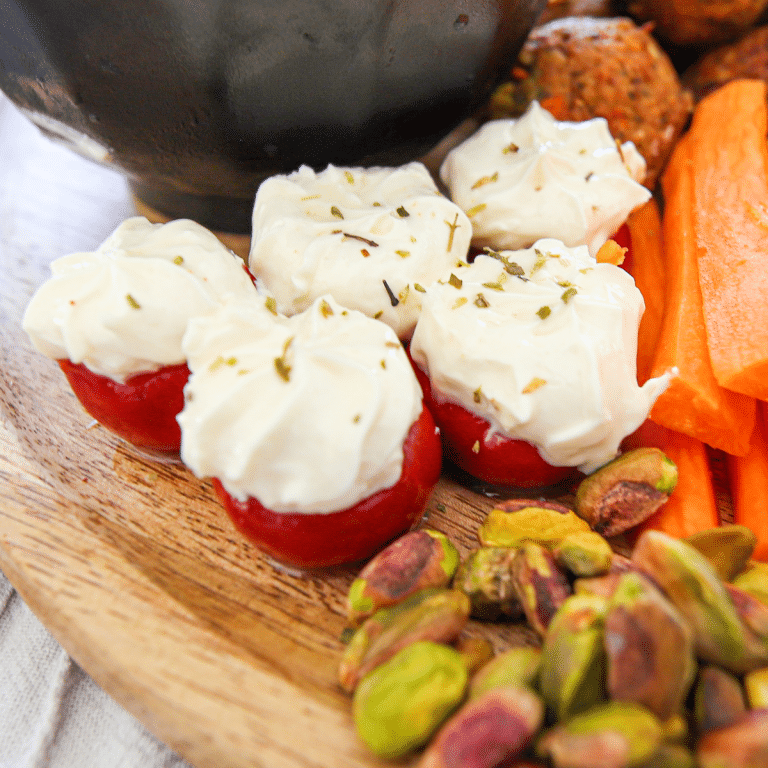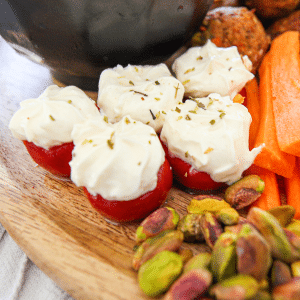 3. Marinated Feta Cubes
Indulge in the rich and creamy delight of our Marinated Feta Cheese Cubes. Crafted to perfection, these bite-sized treasures are a harmonious blend of velvety, tangy Feta cheese and a medley of carefully selected herbs and aromatic spices. Each cube is a burst of flavour, with the cheese's luscious texture beautifully complemented by the infusion of Mediterranean herbs and the subtle hint of olive oil. Whether you enjoy them as a standalone
treat, on a salad, or paired with crusty bread, our Marinated Feta Cheese Cubes are a culinary masterpiece that elevates any dish to gourmet heights!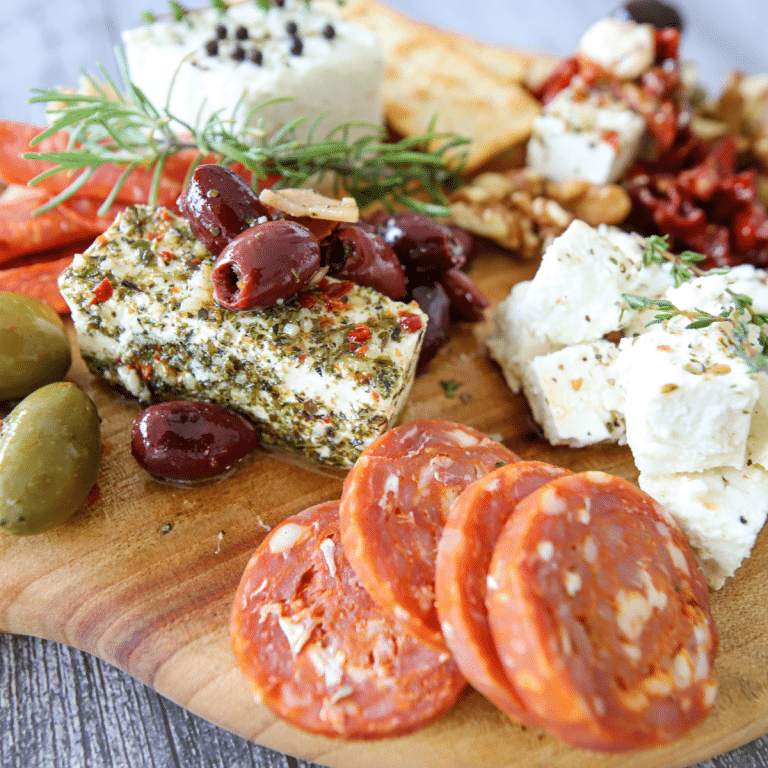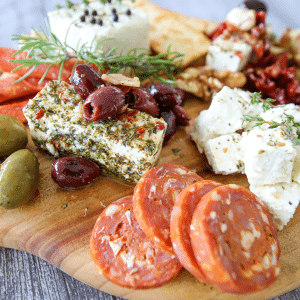 4. Mediterranean Mixed Olives
Our Mediterranean Mixed Olives capture the essence of the Mediterranean in every bite. This carefully curated blend is a harmonious union of various olive varieties, each with its distinct flavour profile. From the briny intensity of Kalamata olives to the buttery richness of green and black varieties, this mix offers a sensory journey through the olive groves of the Mediterranean. Enhanced with aromatic herbs and garlic, it's a medley of savoury delights
that elevates any Antipasto platter or culinary creation! Click here to discover our entire Antipasto range!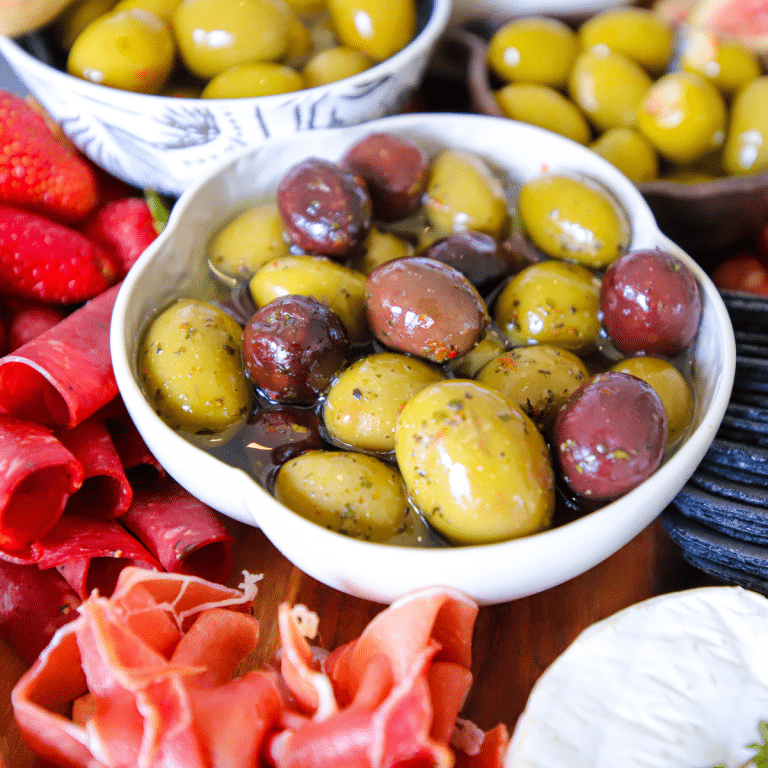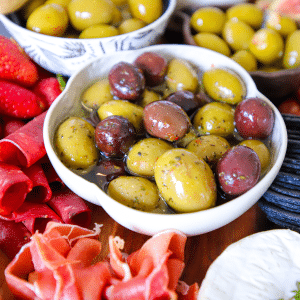 Gourmet Antipasto is a celebration of Mediterranean flavours and traditions that continue to inspire culinary creativity worldwide. At Wholesale Food Group, we're passionate about bringing the essence of this culinary tradition to your doorstep. As you dive into the world of Antipasto, you're not just indulging in a platter of appetisers; you're embarking on a journey of taste, history, and unparalleled indulgence. It's a voyage through centuries-old traditions, a symphony of flavours, and an invitation to elevate your culinary journey to new
heights! So, go ahead, savour every bite, and let Antipasto enchant your senses. It's more than just a platter; it's pure culinary magic!
To delve deeper into our offerings, which encompass premium-quality gourmet items, private label food manufacturing options, or the intricacies of our contract manufacturing & food production process, don't hesitate to reach out to our friendly team today!