Leading The Way in Food Innovation With Our Vegan Mayonnaise Range!
Over the past few decades, we've witnessed global food preferences evolve, driven by a combination of health consciousness, environmental awareness, and ethical considerations. The move towards plant-based diets, in particular, has transitioned from a niche preference to a worldwide phenomenon. Veganism, once a term only familiar to a select few, is now a significant movement influencing menus, supermarkets, and kitchens globally.
As a leading contract food manufacturer rooted in Australia, Wholesale Food Group has thrived since 1996 by understanding and responding to these major shifts in the culinary landscape. Our ethos is not just about crafting gourmet Mediterranean-inspired foods; it's about recognising and respecting the diverse palates and preferences of our consumers. One challenge that stood out amidst this changing landscape was recreating a beloved classic –  Mayonnaise.
Traditionally a blend of oil, vinegar, and eggs, mayo has graced our tables and tantalized our taste buds for centuries. But with the rise of veganism, a pressing question emerged: how can we replicate the rich, creamy essence of mayo without using eggs? At Wholesale Food Group, food innovation is at the heart of what we do. Thus began our journey to craft a Vegan Mayonnaise—a creamy, delightful alternative without a hint of egg. Join us as we unravel the magic behind this culinary innovation in this blog!
A Brief History of Mayonnaise
Mayonnaise, in its traditional form, has a history as rich and creamy as its texture. Originating from Europe, some tales credit its invention to the French during the 18th century, while others trace its roots to Spanish cuisine. Regardless of its precise origins, mayo's allure quickly spread, making it a staple in kitchens worldwide. Its core ingredients—oil, vinegar, and eggs—come together in a symphony of emulsion, creating a versatile condiment that complements a plethora of dishes.
From binding the potatoes in a classic salad to adding a creamy layer to sandwiches and burgers, mayonnaise has established itself as more than just a condiment—it's a culinary cornerstone. The secret behind traditional mayonnaise's allure lies in its balance. The oil provides richness, the vinegar or lemon juice imparts a tangy brightness, and the egg yolks bring it all together with their natural emulsifying properties. This blend not only delivers on taste and texture but also consistency, ensuring that mayo drapes elegantly over ingredients rather than pooling or separating.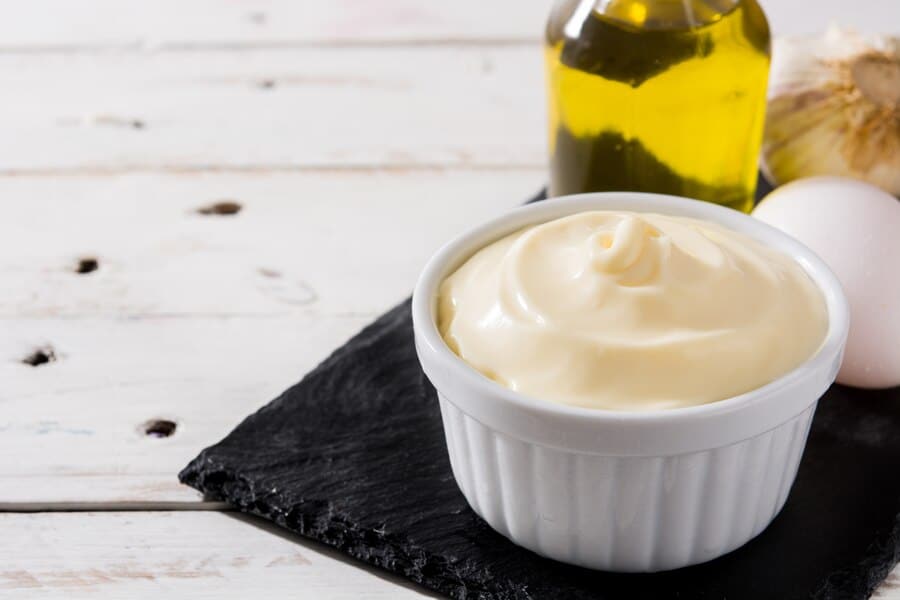 The Challenge of Crafting Vegan Mayo
In the realm of culinary innovation, the pursuit of authenticity while introducing variations to classic recipes is often intricate. This balance becomes especially delicate when working with a product as iconic as mayonnaise. To recreate mayo without the integral component of eggs—its emulsifying heart—is not just about finding a substitute; it's about capturing the soul of the original.
First and foremost, one must understand the role that eggs play. As nature's emulsifier, they provide mayonnaise with its signature creaminess, preventing the water and oil from separating and ensuring a consistent, velvety texture. Without them, achieving a similar consistency becomes a significant hurdle. Furthermore, eggs contribute a subtle richness to the mayo's flavour profile, a nuance that's often overlooked but undeniably integral. Beyond the technical aspects, there's the challenge of consumer expectation. The global culinary audience has grown up with a certain understanding and expectation of what mayonnaise should taste and feel like. Crafting a vegan variant isn't just about pleasing the vegan community; it's about presenting a product that even traditional mayo enthusiasts would embrace with open arms.
At Wholesale Food Group, we approached this challenge with a blend of reverence for tradition and a passion for innovation. We realised that the answer wasn't just in finding an alternative ingredient, but in understanding the science of emulsion, the art of flavour blending, and most importantly, in relentless experimentation. Our food technologists who were tasked with the mission to reinvent mayo for our vegan aficionados used science to develop the Vegan Mayonnaise without compromising on its signature taste and texture.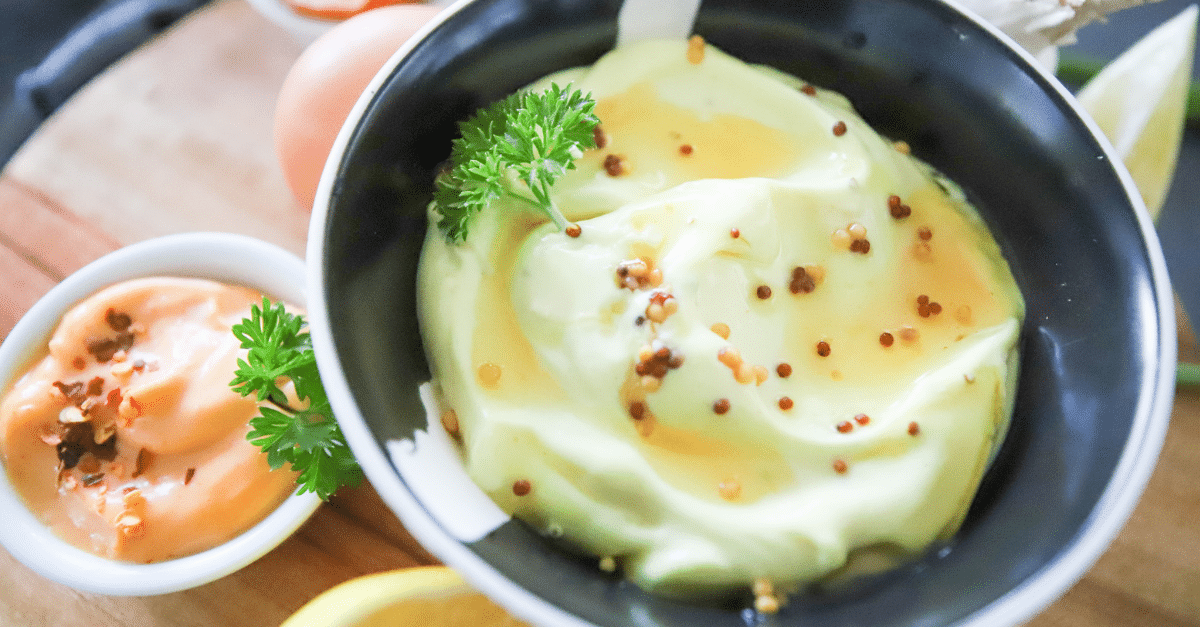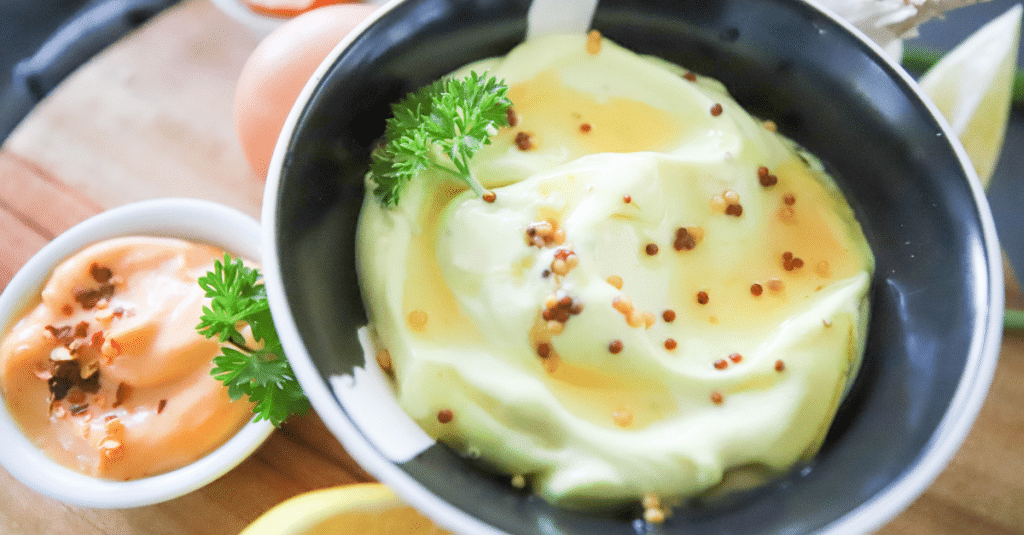 The Science Behind Our Vegan Mayonnaise
Crafting the perfect Vegan Mayonnaise wasn't just a matter of swapping out a few ingredients. It was a culinary puzzle, requiring a deep understanding of food science, a passion for taste perfection, and a relentless drive for innovation. At the heart of traditional mayo lies emulsification—a process where two typically unmixable liquids (like oil and water) are combined into a unified blend. Eggs, specifically the lecithin found in yolks, act as the magic binder in this process. Without them, creating a stable emulsion becomes a monumental task. Our food technologists turned to the plant kingdom for answers. Soy and pea proteins emerged as leading contenders, both offering emulsifying properties that could mimic those of eggs.
Achieving the right flavour profile was a challenge on its own. Eggs impart a subtle richness to mayonnaise, a base note that provides depth. Recreating this without eggs required a symphony of natural ingredients. We explored various plant-based oils, like grapeseed and canola, seeking the perfect taste foundation. Throughout this journey, one guiding principle remained—our Vegan Mayonnaise had to be more than just an alternative. Our secret weapon? Balance. Achieving the right flavour profile required precision. Through rigorous testing and refinement, we struck a harmonious blend that is both rich and unmistakably mayo.
The choice of plant-based alternatives is more than just catering to a new culinary trend; it's an alignment with a growing global consciousness. Here's a deeper look at the myriad benefits our Vegan Mayonnaise brings to the table:
Environmental Consciousness:
Plant-based products often have a significantly smaller carbon footprint. The production of vegan mayo bypasses the resource-intensive processes associated with poultry farming, leading to fewer greenhouse gas emissions. Egg production, especially on a large scale, requires substantial water resources. By eliminating eggs from our mayo, we indirectly contribute to considerable water savings.
Health Advantages:
Our Vegan Mayo is naturally devoid of cholesterol, an aspect commonly associated with eggs. This makes it a heart-healthy option, particularly for those monitoring their cholesterol levels. Also, Egg allergies are one of the most common food allergies, especially in children. A mayo-free from eggs offers a safe alternative for those with such dietary restrictions. And harnessing the power of plants often brings additional nutritional benefits. Our vegan mayo, depending on its specific formulation, can offer essential fatty acids, vitamins, and minerals inherent to the plant-based ingredients used.
Ethical Choices:
By eliminating the need for eggs, our vegan mayo resonates with those who prioritize cruelty-free and ethical consumption. It's a nod to conscious consumerism, where choices are driven by values as much as flavours.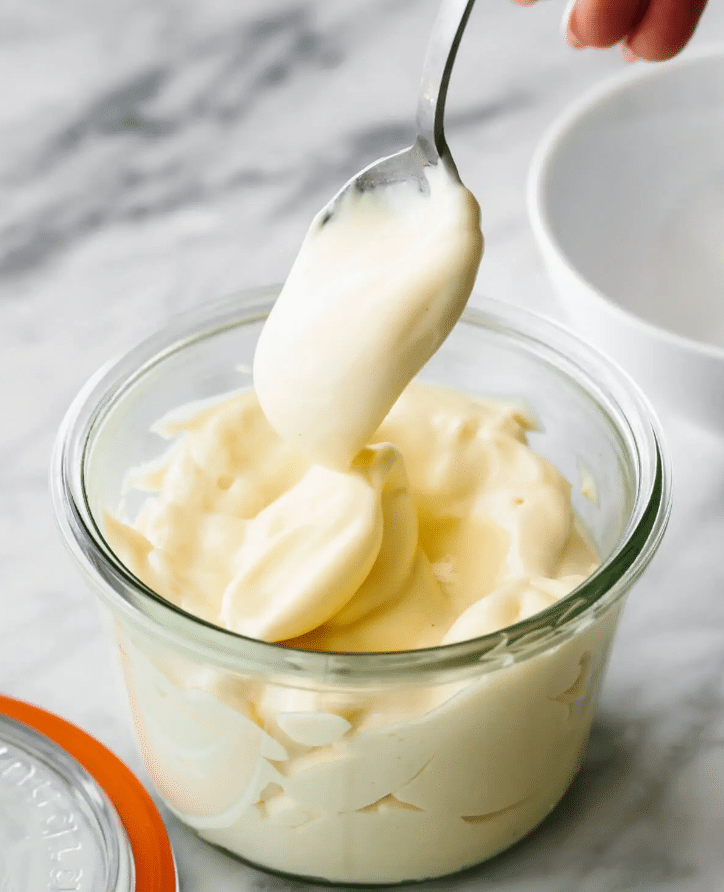 Pairing & Serving Suggestions for Vegan Mayonnaise
The beauty of our Vegan Mayonnaise lies not just in its standalone taste, but in its ability to enhance a variety of dishes. Whether you're a seasoned vegan chef or someone exploring plant-based options, our mayo can elevate your culinary creations. Here are some inspired pairings and serving ideas:
1. Vegan Mediterranean Wraps:
Start with a base of whole grain or spinach wrap. Spread a generous layer of our Vegan Mayonnaise, followed by layers of roasted red bell peppers, grilled zucchini, sun-dried tomatoes, and olives. For added protein, consider adding chickpea falafels or marinated tofu strips. The mayo acts as a creamy binder, pulling together the myriad of Mediterranean flavours.
2. Vegan Potato Salad:
A classic reimagined! Combine boiled baby potatoes with a mix of our Vegan Mayo, fresh dill, chives, and a squeeze of lemon. Throw in some diced cucumbers and red onions for a refreshing crunch. Perfect as a side dish.
3. Vegan Mayo Dips:
Blend our Vegan Mayonnaise with ingredients like roasted garlic, smoked paprika, or even some of your vegan pestos to create flavourful dips. Perfect for dunking vegetable sticks, vegan breadsticks, or drizzling over roasted veggies.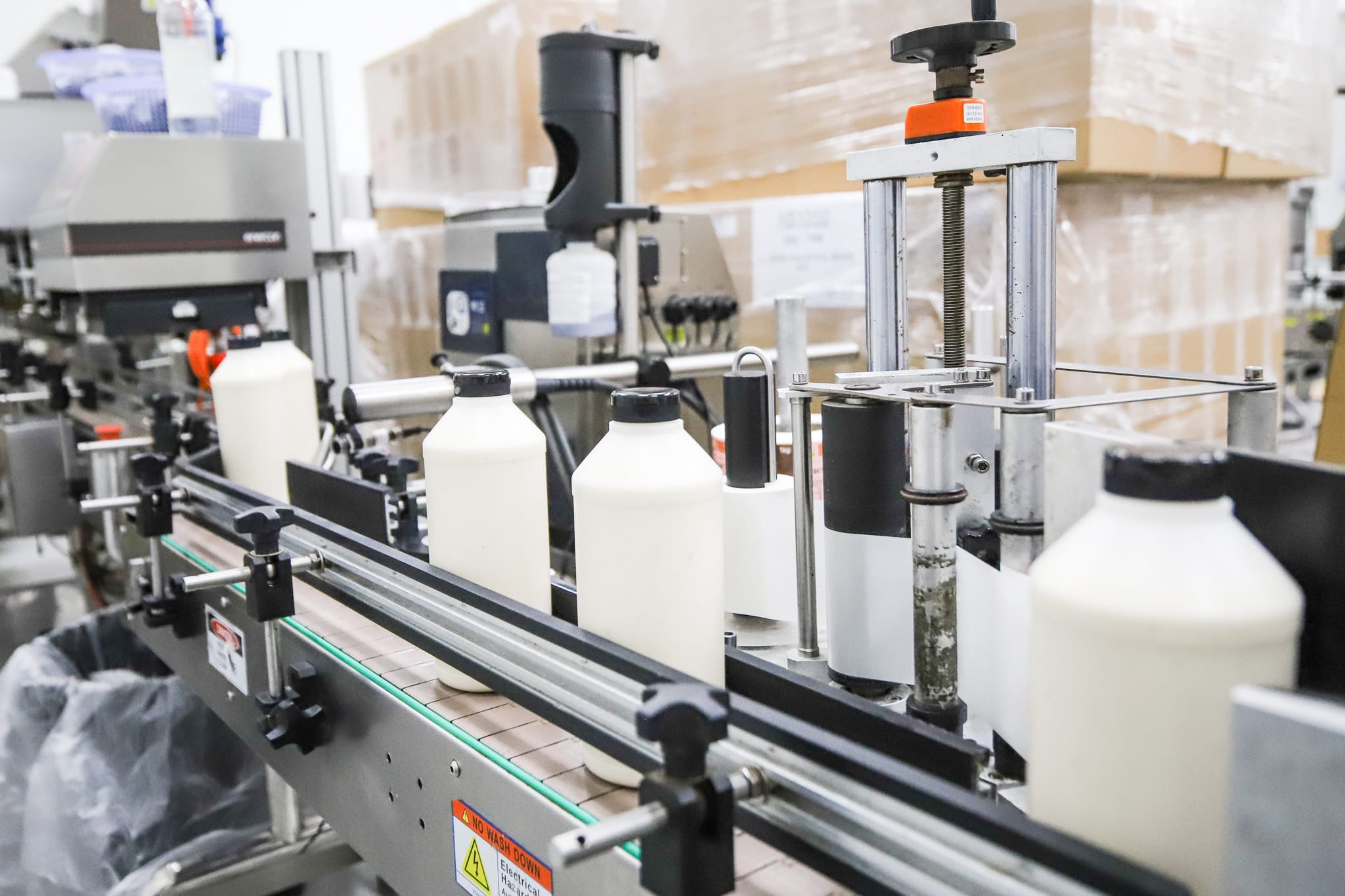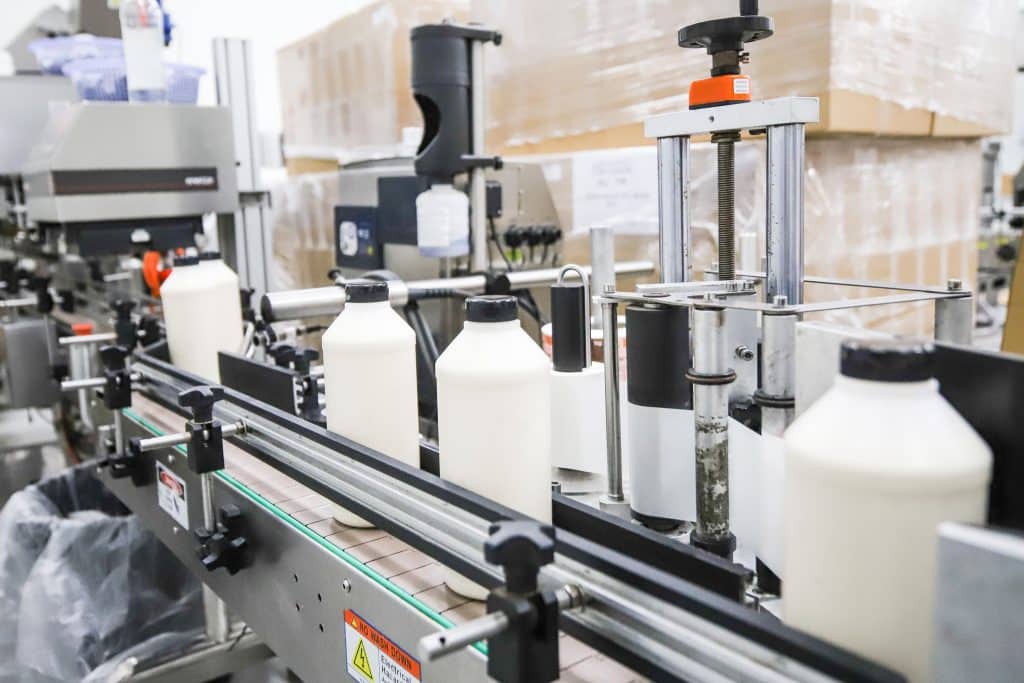 4. Vegan Pasta Salads:
Toss your favourite vegan pasta (like chickpea or lentil pasta) with Vegan Mayo, roasted cherry tomatoes, olives, and arugula. Sprinkle some nutritional yeast on top for a cheesy, nutty flavour.
5. Creamy Vegan Dressings:
Thin down our Vegan Mayo with a bit of almond or soy milk, add herbs like parsley and tarragon, or perhaps a dash of vegan Worcestershire sauce. Drizzle over fresh salads, and roasted vegetables, or use as a marinade for tofu or tempeh.
6. Vegan Sushi Rolls:
For an unconventional twist, use our Vegan Mayonnaise as a base for vegan sushi rolls. Pair with ingredients like avocado, cucumber, roasted bell peppers, and even jackfruit for a delightful sushi experience.
Leaders in Sauce & Mayonnaise Manufacturing
In our ever-evolving culinary world, choices matter. They reflect our values, tastes, and commitments to a sustainable and inclusive future. The rise of our Vegan Mayonnaise is a testament to Wholesale Food Group's unwavering commitment to innovation and an embodiment of our dedication to cater to a diverse and conscious clientele.
By choosing vegan options for your customers, you're not just opting for deliciousness; you're endorsing a healthier, more sustainable, and ethically sound future—one mouthwatering bite at a time. If you require personalised Vegan products, including Vegan Mayonnaise, or if you're curious about how our private label food manufacturing expertise can elevate your brand, don't hesitate to reach out. Contact us today and let's craft culinary magic together!